Chevy Silverado 2500 vs 3500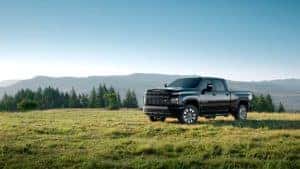 The Chevy Silverado is known as the most powerful 4×4 truck on the road and on the market. The hardworking, intelligent, and powerful line of Chevrolet trucks deliver proven performance, regardless of the trim level or model. This truck flaunts power and ruggedness so that you know it's truly doing the work. Although these two trucks are similar mechanically, they have their uniqueness too. When comparing Chevrolet's two most powerful Silverado Trim Levels, we have to really look at the little details.
Chevrolet Silverado 2500
Starting at $34,700, the 2500 is a little more agile and lightweight compared to the 3500. The Silverado 2500 is perfect for drivers who want durability and fun. With a maximum towing capacity of 14,500lbs, 445on the gas engine and 18,500lbs on the diesel engine, the 2500 sure does compete.
Chevrolet Silverado 3500
Starting at $35,900, the 3500 is more of a heavy-duty and extremist compared to the 2500. The Silverado 3500 is for drivers who have towing and cargo needs. With a maximum towing capacity of 16,800lbs on the gas engine and 20,000lbs on the diesel engine, the 3500 is your ultimate towing truck. In addition to towing, the 3500 can also trail to a total weight load of 36,000lbs with the 5th wheel towing capacity.
Similarities
Whether you prefer a gas or diesel truck, the 2500 and 3500 will surely exceed your expectations with their identical specs. On the Duramax 6.6L Turbo-Diesel V8 there's 445hp, 910lb-ft of torque, and a 10-speed automatic transmission, and on the 6.6L V8 Gas Engine there's 401hp, 464lb-ft of torque, and a 6-speed automatic transmission.
Both models also come with an Advanced Trailering System, camera assistance with 15 different views, front and rear park assist, optimal legroom, automatic emergency braking, integrated bed steps, and Chevrolet Infotainment 3. In addition, the Silverado is offered in 10 different colors to tailor to your preference: Northsky Blue Metallic, Oxford Brown Metallic, Shadow Gray Metallic, Mosaic Black Metallic, Cherry Red Tintcoat, Satin Steel Metallic, Silver Ice Metallic, Summit White, Red Hot, or Black.
Chevrolet Silverado at Lynch C
hevrolet of Mukwonago
Whether you're shopping for a new or used 2500 or 3500, we will find you your dream vehicle. Lynch Family of Dealerships is the #1 seller of 3500s in Wisconsin and the four surrounding states! Take a look at our Chevy inventory, call (262) 368-1045 for more information, or stop in at our Lynch Chevrolet of Mukwonago location for a test drive! We are located at 280 E Wolf Run, Mukwonago, WI 53149.